Bar Light Up Letters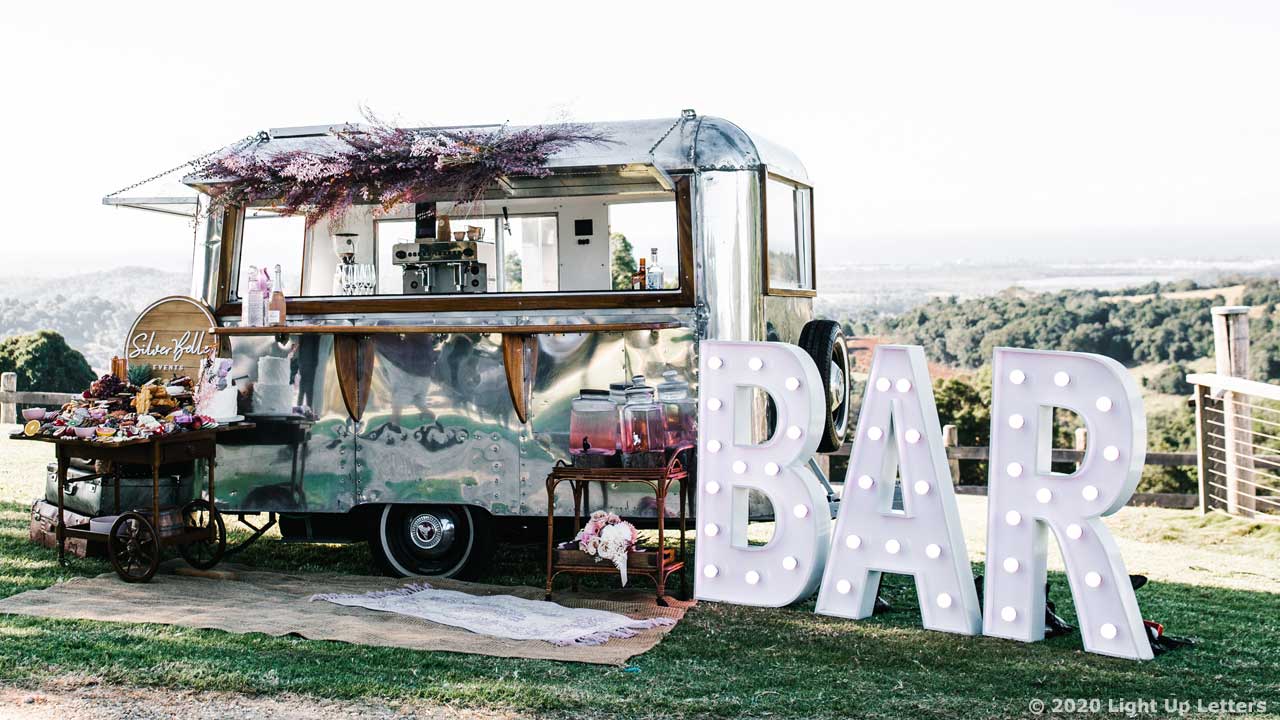 Brighten up your drink service station by displaying giant light up BAR letters. Each light up letter stands at 1.2m high or for a larger statement 1.5m high.  Light up letters are available for a 24-hour rental period. A bold, bright Bar will make a statement at any event, such a corporate event, anniversary, birthday party or business celebration.
Versatile Colour Schemes
Our BAR light up letters are very versatile and offer hundreds of colour variations and every white range from daylight to sunset so you can easily match them with your party's colour scheme or company logo. Each letter features cool to the touch LED globes and is tested, tagged and fully compliant with QLD and NSW safety regulations.
Easily Installation
Setting up our light up letters is very easy and only require a standard 240V outlet to power. A simple remote control lets you set the mood from up to 30 metres away. Dim the lights to any level without flicker, activate multi-colour party mode or turn white to various colour temperatures all with the touch of a button. Light Up Letters and Numbers come with per-programmed patterns and chases so you can choose the best setting for your event.
Available For Hire
Hire our BAR light up letters for parties, events and celebrations in Brisbane, the Gold Coast and Northern NSW areas. Collection can be made from the Light Up Letters warehouse in Burleigh Heads or have them delivered directly to your home or party venue for a small additional fee.
Whether celebrating a corporate milestone, birthday or anniversary; use Light Up Letters BAR to make guests aware of the significance of the occasion. With thousands of colour and pattern options, our light up letters will shine brightly and help get your party started.
Bar Light Up Letters
Size: 1.2 Metres High x 2.1 Metres Wide
Availability: Brisbane, Gold Coast and Northern NSW areas
Rental Period: 24hr Rental Duration
Colours: Huge selection of colours, chases and patterns
Whites: Full colour temperature of cool white, warm and antique white.
Control: Versatile remote control with a range of up to 30 metres.
Power: Requires one standard 240v power outlet
Collection: Collect from Burleigh Warehouse or Home/Venue Delivery (for a small fee)
Safety: All letters tested, tagged and fully compliant with QLD and NSW safety regulations
Light Globes: Cool to touch LED globes